Who says the off season in Branson has nothing to offer? Check out these two Area Appreciations, and plan on many more in the coming months from other favorite theatres!!
Titanic Area Appreciation – January 18-26, 2013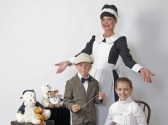 This is Titanic's  way of saying Thank you to the locals!
"You've helped make the Titanic Museum Attraction in Branson one of the most popular family destinations. We treasure and value your support and invite everyone in these counties to experience Titanic." A new Gallery within the museum, a tribute to Titanic's littlest hereos! Discover the 133 children stories of Titanic.  This year-long, exclusive exhibit is a celebration of The Children of Titanic whose bravery, innocence and faith can be an inspiration to us all.
For those of you in Taney, Stone Christian and Greene Counties in Missouri, and Boone and Carroll Counties in Arkansas, enjoy the discounted price of $8.00 per ticket. This price is for adults and children alike. Children under age 4 are FREE. ID's with area zip codes are required.
www.titanicbranson.com
417-334-9500
Grand Jubilee Area Appreciation – January 18-26, 2013

$5.00 Admission

Missouri Counties: Taney, Stone, Christian, Greene, Douglas, Barry, Lawrence, Polk and Webster.
Arkansas Counties: Carroll, Boone, Marion, Newton.
Photo ID Required, and tickets must be picked up at least one hour prior to show.
7:30 pm performances everyday except Sunday.
Grand Country Music Hall
1945 West Highway 76
For Tickets Call: 417-335-2484